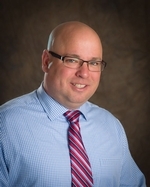 810-364-8700 ext 103
810-364-8728 fax
810-858-7184 cell phone

jwright@oconnorrealty.com
2801 Gratiot Blvd.
Marysville Michigan, 48040
Receive Email Alerts from Me
You detest typical real estate agent bios. Don't worry, I do too. They're like cardboard — stiff, bland, and identical to every other bio out there. Instead of boasting about awards and accomplishments you're not interested in, I'm taking the novel approach of actually giving you what you want — real answers to questions you're probably wondering right now.
Will you return my calls and emails?
Yes. Without question. I realize this is one of the major frustrations the general public has with dealing with agents. I get dozens of calls and emails daily, and I work hard to reply as quickly as possible.
 I've met many Realtors who are jerks. Are ?you?
Depends on who you ask. If you ask certain agents who have stood between my clients and their real estate goals, they'll probably say "yes". A handful of people think I leave golden footprints in the sand. Those are the two extremes, and most people's opinion falls somewhere in the middle.
Here's what I can tell you:
I'm honest and candid. I take pride in being approachable and friendly. And if you need a quick real estate brain, or a strong dose of honesty, you're in the right place. Loyalty to family, clients, and friends is one of my core values.
Want to really find out if I'm a jerk? Mess with one of those people.
Do you have experience doing exactly what I need?
Until you tell me what you need, there is no way of knowing.
These are "strong suits" of mine:
Working with first time home buyers
Relocations
Helping Sellers sell for the best profit possible
Learning what my buyer wants and helping them achieve their goal
If your goal or situation isn't represented on that list, don't worry. Contact me anyway. If I can't help, I can get you referred to an agent who can.
What kind of work are you really good at?
On a personal level, I enjoy hanging out with family and friends, and I spend a lot of time volunteering my time with coaching youth sports.
 On a professional level, here are the skill-sets that I've developed over the years:
Listening. Unfortunately, it's a lost art these days.
Communication. You contact me, I'll contact you back.                
Follow up. Even if it is not always great news, the truth is the truth, what you see is what you get.  
What do clients think of you?
My clients are better suited to answer this for you. Here's what some of them have said.
 Jon is a true professional.  He really listened to us and not only found us the perfect house he stayed with us through closing to make sure everything was handled.
-Bought a home in Clyde Twp.
---
We recently purchased a home with Jon's help. He was awesome! We wouldn't use or recommend another realtor. Not only did we buy with his help, twp other are planning on calling him now (very soon), we have one person who decided to list with him as well 
His experience, knowledge, and honest- personable approach to being a realtor really pays off. Hands down one of the absolute best is the area!
-Bought a home in Marysville
---
Jon is a very experienced and personable realtor. He is quick to respond to any and all questions. He will help you from start to finish with your home buying and/or selling experience. I recommend him to everyone!
-Sold a home in Marysville and bought a home in Port Huron
 Quick Snapshot
Former Eastern Thumb Association of Realtor Director
Multi-Million Dollar Producer annually
30+ transactions per year for 5 consecutive years. 
CLICK HERE FOR A FREE MARKET ANALYSIS
#218069195 | Single Family Home
#218068632 | Single Family Home
#218057020 | Single Family Home
#218085895 | Single Family Home
#218066824 | Single Family Home
1.26
Lot Acres
irregular Lot Dimensions:
Zoning:
1.23
Lot Acres
irregular Lot Dimensions:
Zoning:
8.01
Lot Acres
173 x 1359 x 323 x 758 Lot Dimensions:
Zoning: