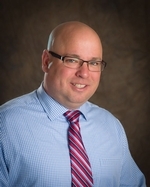 810-364-8700 ext 103
810-364-8728 fax
810-858-7184 cell phone

jwright@oconnorrealty.com
2801 Gratiot Blvd.
Marysville Michigan, 48040
Receive Email Alerts from Me
Hello, my name is Jon Wright, how can I help you?
I have been a proud resident of the St. Clair County area for over 30 years. I am extremely active with my my local community and heavily involved in the youth sports programs within our area. I am a father of 2 two boys and I am super proud of the young men they are turning into. 
Ethical, honesty, integrity, promptness and reliable are a few word that I would use to describe myself, if these things are important to you then we should sit down ad talk about your real estate needs.  
With a background in the hospitality industry I understand the meaning of customer service and what it takes to provide great service. I will work diligently to answer your questions and make your real estate experience an enjoyable one.
What do clients think of you?
My clients are better suited to answer this for you. Here's what some of them have said.
 Jon is a true professional.  He really listened to us and not only found us the perfect house he stayed with us through closing to make sure everything was handled.
-Bought a home in Clyde Twp.
We recently purchased a home with Jon's help. He was awesome! We wouldn't use or recommend another realtor. Not only did we buy with his help, twp other are planning on calling him now (very soon), we have one person who decided to list with him as well 
His experience, knowledge, and honest- personable approach to being a realtor really pays off. Hands down one of the absolute best is the area!
-Bought a home in Marysville
Jon is a very experienced and personable realtor. He is quick to respond to any and all questions. He will help you from start to finish with your home buying and/or selling experience. I recommend him to everyone!
-Sold a home in Marysville and bought a home in Port Huron
 Quick Snapshot
? 2018 Eastern Thumb Association of Realtors, Realtor of the Year
? Former Eastern Thumb Association of Realtor Director
? Multi-Million Dollar Producer annually
? 30+ transaction per year for 5 consecutive years. 
CLICK HERE FOR A FREE MARKET ANALYSIS
#2210037067 | Single Family Home
Seller's Representative: O'Connor Realty, Inc